Finding a DJ controller for your setup is an exciting experience, but actually setting it up can be overwhelming for the inexperienced.
Today, DJ controllers are slowly becoming cheaper and more accessible, making them a great asset even for beginners.
So, if you need help figuring out how to connect DJ controller to powered speakers, we've got your back.
Yet, before we get to that, let's first talk about the basics.
What Are the Differences Between DJ Mixers vs. DJ Controllers?
DJ mixers are standalone devices that do not need any software and can connect to almost any line-level sound source.
While DJ controllers already have a built-in DJ mixer, it doesn't offer that much versatility as a standalone DJ mixer.
DJ controllers are usually the better choice, especially when you're just starting out. On the other hand, DJ mixers are best for professional use because it offers you more control.
What Are the Main Functions of a DJ Controller?
Having a DJ controller in your setup can be a blast, as you will have a lot of settings to play and experiment with.
Here are some of the interesting features you will find in most DJ controllers in the market:
Cue Button
The cue button lets you play an audio track into a specific channel. It can be used to play a music track and then insert audio cues in between.
Play Button
This button simply plays a specific audio track from a chosen channel. Compared to the cue button, it continuously plays the music throughout.
Tempo Control
This feature speeds up or slows down your chosen audio track, allowing you to control its tempo.
Along with tempo, changing the pitch shift is an essential skill to learn since you can perform beat matching when two tracks are perfectly synced together.
EQ Knobs
EQ knobs can add or reduce the low, mid, and high frequencies of a selected channel.  Great DJs use this feature to remove frequency clashing between two or more tracks.
As you can imagine, another great use of EQ knobs is to provide a smooth transition between tracks.
Performance Pads
One of the most distinct features that set DJ controllers apart from vinyl turntables and traditional CDJs is the performance pads.
Channel Volume
Performance pads are buttons that allow you to play hot cues, effects, beat loops, and samples. Having full access to these sounds comes in handy for the right moments.
It simply controls the volume on different track channels. While it is a simple feature, creative DJs make use of the channel volume to add suspense by cutting tracks.
FX Buttons
DJs can play different effects using the FX buttons. These buttons are limited to a certain number, but there are usually a ton of effects that you can assign to them.
Follow the instruction manual to know how to add a specific effect to an FX button.
Jog Wheels
Jog wheels are simply similar to how a vinyl track is played in traditional turntables.
While jog wheels aren't really necessary since we don't typically use vinyl today, it is still an iconic feature of a DJ's arsenal.
You can adjust the music track just like a record vinyl and simultaneously set the music to a faster or slower tempo.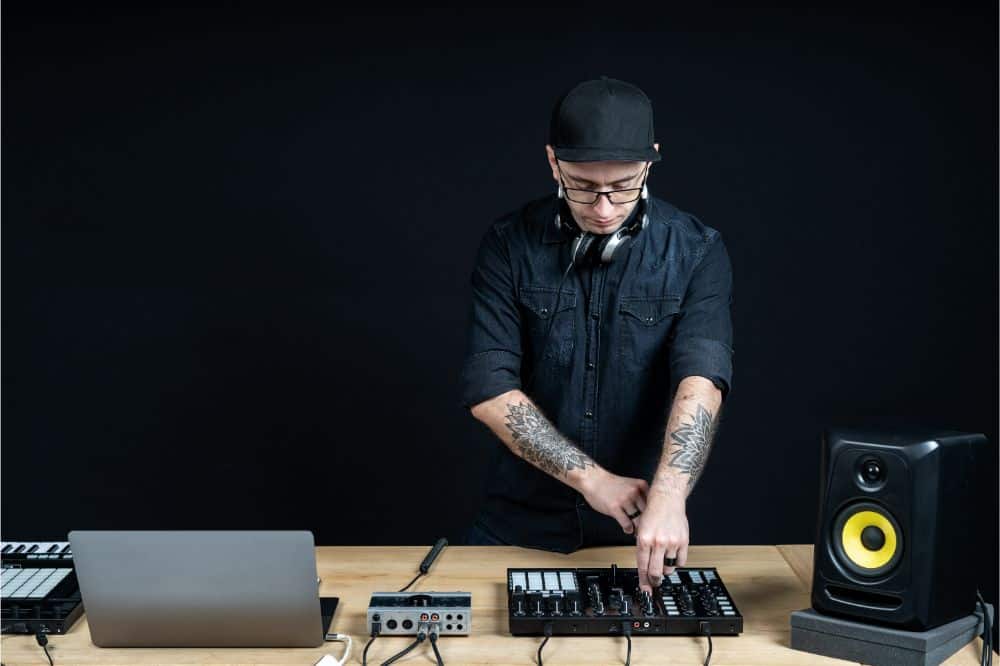 How To Connect DJ Controller To Powered Speakers?
Connecting a DJ controller to your favorite powered or DJ-powered speakers isn't simple, but it's something you can learn.
It is a methodological process that takes a bit of time to ensure everything works well.
Even seasoned DJs fall into the trap of winging the installation. As a result, they often end up wasting precious time or, worse, damaging their equipment.
Take some time to digest the information below so that you can have a hassle-free setup later on.
Things You'll Need
Here is a list of the things you will need beforehand:
DJ Controller
A DJ controller is an all-in-one mixer connected to your speakers using DJ software. The features, however, will vary from model, price, and brand.
If you are a beginner, we recommend not blowing all your money into an expensive DJ controller.
Beginner DJ controllers are usually equipped with enough features and make for a good entry-level device.
Powered Speakers
Powered speakers are an integral component of the sound setup, as they will showcase your art or performance.
This type of speaker is convenient since it has a built-in amplifier, making it easy to transport and install.
It is unlike unpowered speakers, which require a separate amplifier that will take up space in your audio equipment setup.
Some modern powered speakers also come in with Bluetooth technology, which can come in handy if you want to have less cable management.
DJ Software 
Obviously, you have to make sure that the DJ software application must be compatible with your DJ controller. 
Read through the owner's manual to know the specific software to install.
While this additional step may take some time, finding a compatible software program will save you from a lot of issues later on.
Likewise, make sure you have a capable laptop to handle the software, as it will become a crucial part of your audio gear. 
Cables
While some DJ controllers connect to speakers using Bluetooth, wired connections are still very much the preferred setup.
Check that you have the correct cables and inspect them beforehand for any damages.
You should have audio cables, XLR cables, USB cables, RCA cables, or any other essential cable for your entire setup.
Step-by-Step Guide
While you can follow the manual to connect your audio equipment, you can also refer to our quick and simple guide below.
Step 1: Inventory Check
One of the most infuriating things in the setup process is finding out you lack a piece of equipment.
So, check that you have everything prepared for a smooth-sailing process; you get bonus points if you have additional cables ready in case one doesn't work.
Step 2: Install Software
There are a ton of controllers that have their special DJ software based on the manufacturer and model.
Read through the manufacturer's website or manual that came in the package to know the correct software application to install.
Download Files
After finding the correct software, download the files for your setup. Jot down the license key, as you'll need it later when installing the software.
Usually, the instructions come with basic steps you can follow to install the software on your computer.
System Requirements
Nothing is worse than finding out you have an incompatible computer after buying your DJ equipment and software.
So, read the system requirements of your DJ software thoroughly.
Check Compatibility
Check if there are software updates or changes to make your DJ equipment compatible.
You may miss out on new features if you install outdated software or, worse, face some issues or bugs.
Step 3: Restart the Computer
It is always a good idea to restart your computer after installing the software and configuring the settings.
Then, you should be able to open the program and see the DJ controller software running.
Step 4: Test Computer Audio
Another good practice in every manual setup of audio gear is to test if each component works properly.
If you still haven't connected your speakers to your computer, now is the best time to do so.
Follow the exact guide in installing the powered speakers, and make sure you are using the correct types of cables.
Next, fire up the power source, play a song or two, and adjust the volume knob to check if your powered speakers are working correctly.
Step 5: Connect the DJ Controller
There are two ways you can connect the DJ controller, either via your computer or your powered speakers.
Using a Computer
Assuming everything is ready, you can proceed with connecting the DJ controller equipment to your computer.
Most DJ controllers simply need a USB cable to establish a connection with the computer.
A successful connection is usually indicated by a sound or a notification in your computer's software.
Using Powered Speakers
It is possible to connect the DJ controller to the powered
speakers directly. You have to use the ends of your RCA/XLR cables to connect your speakers and controller.
If you want to throw in more speakers, run extra XLR cables to the external speakers and then to the additional ones.
Step 6: Load Your Music
Now is the time for you to rock your inner DJ. Load up some tracks, experiment with your DJing equipment and adjust some settings to get your flow of music going.
You can also set up music libraries and musical tracks, as well as add other audio devices if you wish to.
Connecting a DJ Controller To Powered Speakers
As you can see, learning how to connect DJ controller to powered speakers is not that complicated.
You just need to take it slow and understand each step, not only to make sure you do it correctly but also to keep your equipment safe.
Then, you should be able to enjoy your new setup and create interesting sounds.