Speakers play a significant role in a sound system setup. They are standard output devices producing audible sounds from electronic signals.
A vast range of brands offers various types of speakers in multiple designs, features, and prices.
Today, we will talk about two famous brands and their powered speakers to determine which one suits your needs more.
Powered speakers come with built-in amplifiers, eliminating the need for a receiver and allowing you to connect them to any sound source.
Between QSC vs EV powered speakers, which would you pick?
About the QSC Pro Audio
The Quilter Sound Company, or QSC Pro Audio, is one of the leading global innovators and manufacturers across numerous continents.
This American company manufactures audio products, like digital mixers, loudspeakers, and power amplifiers.
In 1968, inside a small garage in Costa Mesa, California, USA, QSC Pro Audio was built to amplify the life of people through sound.
Since then, the company has provided exceptional support and products to entertainment providers and performers everywhere.
About the Electro-Voice Company
Electro-Voice is an American company manufacturing audio equipment like amplifiers, loudspeakers, and microphones.
It started in September 1927 when the two founders built their small company, Radio Engineers, fixing radio receivers.
The company's first product was a public address system made for a football coach who called it his electric voice, inspiring the brand's name today.
It was in June 1930 when the Electro-Voice company became official, capitalizing on microphone creation.
It began producing loudspeakers in 1950 in response to Hi-Fi music listening that people were drawn to at that time.
QSC vs EV Powered Speakers
As you probably know already, both of these brands offer premium quality speakers for all kinds of music enthusiasts.
To give you an idea of what to expect, we'll talk about their most popular models below.
QSC Powered Speakers
QSC Pro Audio is a famous brand that manufactures audio products, including nice speakers with excellent features at different price points.
Whatever speaker needs you have, you will find a suitable model from its vast collection.
Check out these solid speaker choices from QSC to find the right option according to your needs and budget:
1. QSC K Series
The QSC K Series is available in four impressive models: K8, K10, and K12 are all two-way models, while the K-Sub is a 12-inch dual subwoofer.
These powerful speakers are fitted with a 1000-watt power module and advanced Digital Signal Processors, providing perfect sound and flexibility.
It is a 500-wattx2 speaker set, dividing the 1000-watt power module between the low and high frequencies.
2. QSC KW Series
From the success of the K Series comes the KW Series, representing the development of wood-enclosed speakers.
System engineers from QSC designed this series using all the electronic features of its predecessor.
However, you will notice that it is smaller and lighter than other wood enclosure models.
3. K.2 Series Premium Powered Loudspeakers
QSC calls its K.2 series the next standard in powered loudspeakers, with its 2000-watt amplifier with matching compression drivers and woofers.
Similar to the CP series, this model also comes with three inputs. The first two inputs are for the line/mic and line/Hi-Z combinations for instrument plugging.
You can use the third input to connect music players via its 3.5-millimeter jack, with an option to adjust the gain.
Its Directivity Matched Transition technology provides the entire listening area with smooth coverage.
Further optimizing your setup is the advanced system management and Intrinsic Correction voicing provided by its Digital Signal Processors.
What's more, the Multi-Function Digital Display allows you to select and control different loudspeaker functions, like the crossover, delay, equalizer, and preset contours.
Some commonly used preset applications include dance music, hand-held mic, musical instruments, and stage monitors.
The K.2 series can work as a floor monitor or as the main public address speaker. Its flexibility, advanced functionality, and control make it ideal for various sound applications.
4. CP Series
This affordable CP series powered speaker from QSC provides a professional sound with superior quality.
It is a high-performing ultra-compact unit with long-lasting reliability and class-leading value for which the brand is famous. 
This easy-to-use loudspeaker series features a 1000-watt amplifier and is available in two models: CP8 and CP12.
It has three inputs for the line, mic, and 3.5 millimeters jack, plus one daisy chaining output.
You can easily choose one of the typical preset applications, like dance, floor monitor, and speech, or press a switch if you need a mic boost.
5. KLA Series
The KLA series comprises one powerful speaker and a matching subwoofer engineered to provide premium quality audio.
This speaker series is part of QSC's Line Array category, where you connect multiple units to make a wall of sound.
You can easily connect two speakers on top of a subwoofer using a simple hook and then mount them on a pole.
If you opt to hang them above the stage, you can combine up to two subwoofers and three loudspeakers for maximum effect.
It is an ideal setup for medium-to-large venues for clear and crisp audio.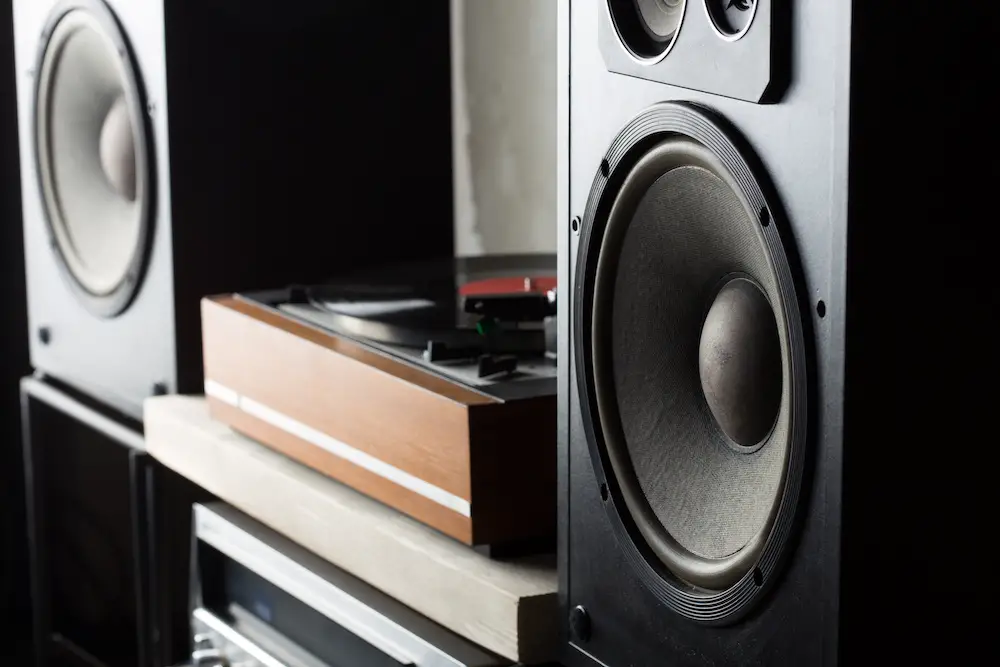 Electro-Voice Powered Speakers
Each Electro-Voice loudspeaker is made in the USA, providing excellent performance in every detail.
The company ensures all manufactured loudspeaker components have passed the industry standards for reliability and superior sound quality.
As a result, you will get exceptional-quality speakers such as the following:
1. ZLX Portable Loudspeaker Series
The ZLX Loudspeaker Series are among the global bestsellers from Electro-Voice, available in 12- and 15-inch passive and powered versions.
This collection lets you buy and experience premium and professional quality audio equipment at a reasonable price.
It has a streamlined industrial design in a compact size, plus user-friendly functionalities and portability.
It is packed full of power, making it a practical choice for multiple applications and venues.
Why chose ZLX? This speaker's combined features, performance, and user-friendly operations provide professional sound quality.
In fact, its compact, lightweight, and ergonomic enclosure design has been incomparable since its launch.
The ZLX series will give you professional features in a portable and affordable package.
2. Powered EV Live-X Speaker Series
The ELX portable loudspeaker series from Electro-Voice offers a professional sound in a simple setup.
It uses highly efficient 1000 and 700 watts amplifiers and user-friendly and intuitive controls.
The line, mic, and RCA inputs provide flexible mixing capabilities, while the XLR outputs allow full range or subwoofer connections.
The speaker is fitted with titanium compression drivers and engineered woofers for excellent audio quality.
It has a balanced design made of lightweight materials and is fitted with ergonomic handles for convenience.
The ELX series offers premium quality components in affordable configurations. It is engineered for different portable sound applications with excellent results.
3. ELX200 Portable Loudspeaker Series
The ELX200 is not as affordable as the ZLX made of plastic molding, nor as expensive as the EKX model. It's not even as powerful as the 2000-watt ETX series.
Instead, the ELX200 is a semipro and casual series with convenient features.
It is the first EV loudspeaker family fitted with the QuickSmartMobile and the second to utilize BTLE or the Bluetooth Low Energy technologies.
This BTLE technology allows you to control a maximum of six ELX200 speakers remotely.
It has three two-way full-range speakers in three sizes, plus two subs with 12- or 18-inch drivers.
This series also uses the Signal Synchronized Transducers technology for better pattern control and maximum phase coherence.
4. EKX Portable Loudspeaker Series
The Electro-Voice EKX portable loudspeaker series offers maximum auditory impact with minimum effort.
It combines the latest technology with Electro-Voice's reliable and well-known sound quality, packed in a compact package for a wide range of scenarios.
EKX and its professional features, including QuickSmart DSP, power amplifiers, intelligent thermal management, and Signal Synchronized Transducers, make it ideal for various applications.
This Electro-Voice loudspeaker series is more durable and rugged than the previous models offered by the brand.
It has two full-range two-way models with 12- or 15-inch drivers, a Class D amplifier at 1500 watts, and two subwoofer units.
Also, it has comprehensive Digital Signal Processing inside and a "press-and-turn" control panel, allowing you to access every function.
5. ETX Portable Loudspeaker Series
The ETX full-range speakers are primarily meant for pole mounting, while the subwoofers are stackable for up to three boxes.
The box is covered with the brand's durable synthetic coat, powder-coated grills, and die-cast aluminum handles.
It has a titanium compression driver with a crossover point set at 1500Hz between the low and high-frequency drivers.
This full-range speaker has two independently-controlled input channels and an XLR output jack.
On the other hand, the subwoofer has a more straightforward panel than the full-range version and comes with two XLR inputs and outputs.
You will also find a digital rotary encoder that serves as a push button knob positioned near the speaker's display panel to confirm your choices.
Overall, its prosumer price range compensates for its professional quality sound.
Difference Between Speakers and Subwoofers
Most of the speaker selections we listed include subwoofer units.
Is it different from loudspeakers? Do you need a subwoofer, or can you use a full-range speaker as a standalone unit?
To answer these questions, let's first talk about how these two units differ.
The main difference between regular speakers and subwoofers is the frequency range. You use subwoofers, or sub-base response, for lower frequencies.
On the other hand, a standard loudspeaker caters to mid and high frequencies, typically used in televisions and computers.
If you want to listen to real music with all its details, you need to have a subwoofer for a more balanced sound with a deep bass.
You could use a speaker as a standalone unit, but a subwoofer will not work independently.
A subwoofer's job is to generate lower frequencies, and it is available in active and passive varieties.
An active sub has a built-in amplifier, making it pricier, but it produces a clearer and crispier audio quality.
Using a subwoofer in your PA setup allows you to increase the volume without distorting the overall sound quality.
Which Is Better Between QSC vs EV Powered Speakers?
Technically, each brand has excellent features, and often, choosing the best option depends on the user.
Both offer a wide range of models, but some are better than others.
For QSC Pro Audio speakers, its K series is popular among audiophiles but has a higher price point than the units produced by Electro-Voice.
On the other hand, Electro-Voice tops QSC Pro Audio in industry experience when it comes to manufacturing since the company has been around since the 1930s.
Also, the company boasts of manufacturing all components in its facilities.